On November 4, 2022, Soukaku was introduced on Zenless Zone Zero's official Twitter account and a voice actor was announced.
"Soukaku" is voiced by Machico. She works as a singer and voice actor. She made her voice acting debut as Tsubasa Ibuki in The Idolmaster: Her Million Live!
She plays Tokai Teio in "Uma Musume Pretty Derby". She also sang the opening theme of KonoSuba: God's Blessing on This Wonderful World!
S.H. Figuarts Uma Musume Pretty Derby, Tokai Teo, Approx. 
From official
"I'm happy as long as I can always eat my fill~"——Soukaku
"Glutton" – the name Soukaku's been called the most.
Few people know her full nickname is: The cute little one who always gobbles down everything she can and is super happy when full but can't reed or rite. (Note: This was written by Soukaku herself)
Participate in events to win merchandise prizes>>
https://hoyo.link/051TBBAd
YouTube: Just Another Day at the Video Store | TGS 2022 Special Debut Video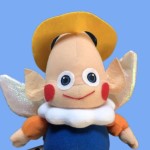 Cute. And Machico is also a good cast.
miHoYo Natural God Curl [Gyoukou] 1/7 Scale PVC & ABS Painted Complete Figure