On September 2, 2022, the Zenless Zone Zero official Twitter tweeted an introduction to the character Anton Ivanov from Belobog Heavy Industries. Anton Ivanov is a subordinate to the president of Belobog Heavy Industries, Creta Belobog.
Anton Ivanov is voiced by Shinichiro Kamio.
Official
"Tough job? I got this!"
"Sorry, I got held up by this strange guy asking if I wanted to play cards or something on my way here… Hm? You haven't started interviewing our president yet, have you? Don't forget to lower the mic stand a bit."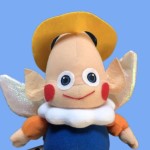 Continuing from the last time, I'm happy to introduce Belobog Heavy Industries character. I'm looking forward to seeing more character introductions!
Related products