On June 28, 2022, it was announced that the Twitter account "SPY x FAMILY" will release "SPY x FAMILY" T-shirts on UNIQLO US from July 2.
The design is all 4 types of T-shirts. Available from Mid-Morning on July 7th at UNIQLO online shops and all UNIQLO US stores.
UT SPY x FAMILY official special site
https://www.uniqlo.com/us/en/special-feature/spy-x-family
NEWS: UNIQLO to Launch SPY x FAMILY Collection in the U.S. on July 7

✨MORE: https://t.co/kyxcMtmdam pic.twitter.com/cCyVjvEKYY

— SPY x FAMILY (@spyfamily_en) June 27, 2022
<Reaction on Twitter>
Oh! Can't wait to buy!
It's already sold out here.
Waku Waku!!
TAKE MY MONEY!!!
Anya! Anya's shirt!!
I'm so excited and happy!!!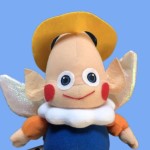 I want all kinds of T-shirts!
The design is also good!